DCS hosted the awards dinner this year and Bridgeworks went home a winner, having been named Data Centre Communications And Networking Vendor of the Year 2017. Here's a list of all of this years winners > DCS Winners!
According to Bridgeworks CEO David Trossell, it is great to see solutions such as PORTrockIT and WANrockIT, which can enable organisations to mitigate data and network latency in and beyond data centres more successfully, gain this recognition.
"It's a delight, and warmly received, to be given this DCS magazine award in recognition that we offer a solution that is streaks ahead of the other players whom are just beginning to look at machine learning."
"It is very encouraging as well as motivating to be considered the data centre communications and networking vendor of choice as a result of winning the award", says Trossell.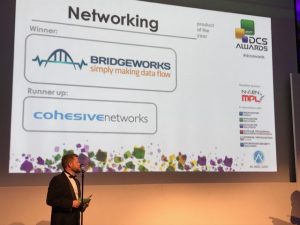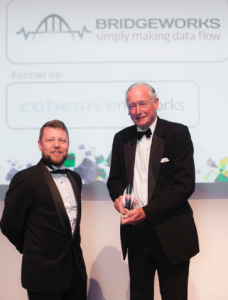 Meet the tech
Bridgeworks' technology reduces human intervention and the problems that can be caused by manual network configurations, which can increase data and network latency, and subsequently create network inefficiencies in a wide area network (WAN). A poorly configured network could lead to downtime and reputational damage. The machine learning in PORTrockIT removes this risk.
In an era where big data matters to most organisations, data accelerations solutions such as PORTrockIT ensure that data can be sent, received and analysed in a timely and efficient manner.
What's next?
Since winning this award, Bridgeworks is making big plans.
Going forward Bridgeworks now plans to build on its success, and is working with several large and well known organisations. 2017 is set to be a great year for Bridgeworks, its partners and more importantly it's customers.