AWS RE: Invent 2015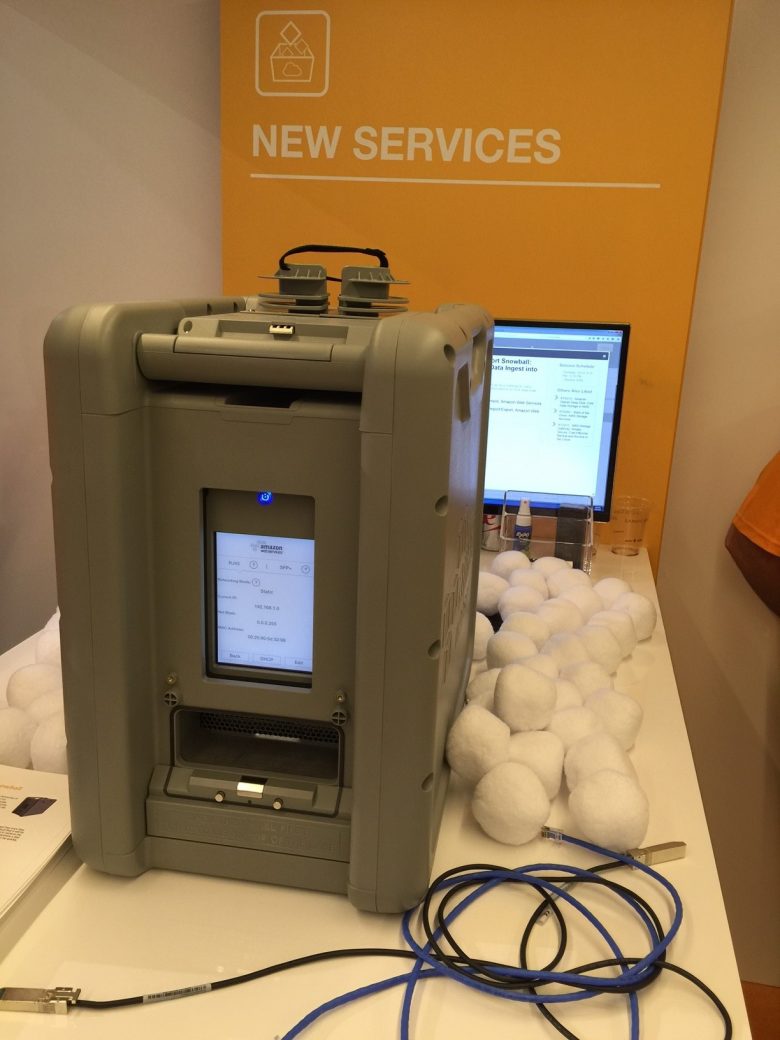 The sizzle continued inside the façade of Venice in the hotel that is the Venetian, where over 19,000 delegates were attending this AWS RE:Invent 2015. This is a mammoth logistical operation that was well executed by the AWS Events team, they should be congratulated.
The keynotes were in a hall the size of at least four football pitches. Rows and rows of chairs of at least 60 deep all occupied by excited AWS devotees, looking to glean as much information as possible from the guys on stage. Taking a seat, I awaited Andy Jassy's keynote with anticipation, knowing these were going to be the big announcements from the Senior VP of Amazon Web Services.
Andy confirmed the huge attendance and revealed that more than 35,000 people had registered for the live stream. We were treated then to the AWS success, Amazon S3 Data transfers up by 120% year on year, with an 81% YoY revenue growth to $7.3bn which places AWS in the No1 slot as the fastest growing $Multi-billion Enterprise IT company on the planet. Not just by a little bit though, Salesforce in 2nd place comes in at a meagre 24% comparatively.
We had confirmation that Gartner placed AWS as the leader in the Magic Quadrant for 2015, followed by the impressive list of Enterprise and Public sector companies not to mention Systems Integrators of repute.
Clearly and concisely the "why" in AWS's enormous success was set-out. Moving from a capital expense to a variable one, increasing agility, removing undifferentiated heavy lifting, providing lower variable expense than an organisation could achieve on its own, the removal of guessing capacity and the ability to go global in minutes were the big 6 points raised by Jassy.
Announcements of new products came thick and fast.  Amazon QuickSight, their new free cloud powered BI tool; and Amazon Kinesis Firehose, the ability to easily load streaming data into AWS. 
Then an ominous black slide was displayed with the words "Migrating Large Volumes of Data".
This is very much our domain, so I have to admit to that sinking feeling you get when you think someone has caught up with you.  The next slide was that of a FedEx truck with the immortal words "Never underestimate the bandwidth of a FedEX truck". In truth my heart sank a little lower.  My mind was whirling, just what have they done?
Andy went on to elaborate on the difficulty of managing and moving physical media and the need to manage multiple drives for imports.
AWS, we were told, had applied some inside the box thinking.   Then came the big reveal – Amazon Snowball. The shippable solution to moving large volumes of data. Phew!! My relief was palpable.  No magic here then.
A rather grey box that was placed in a secure enclosure, allows strong encryption on the 50TB you can load it with then send by UPS (what happened to the FedEx bandwidth?) and it arrives at AWS where the dataset is loaded two days later.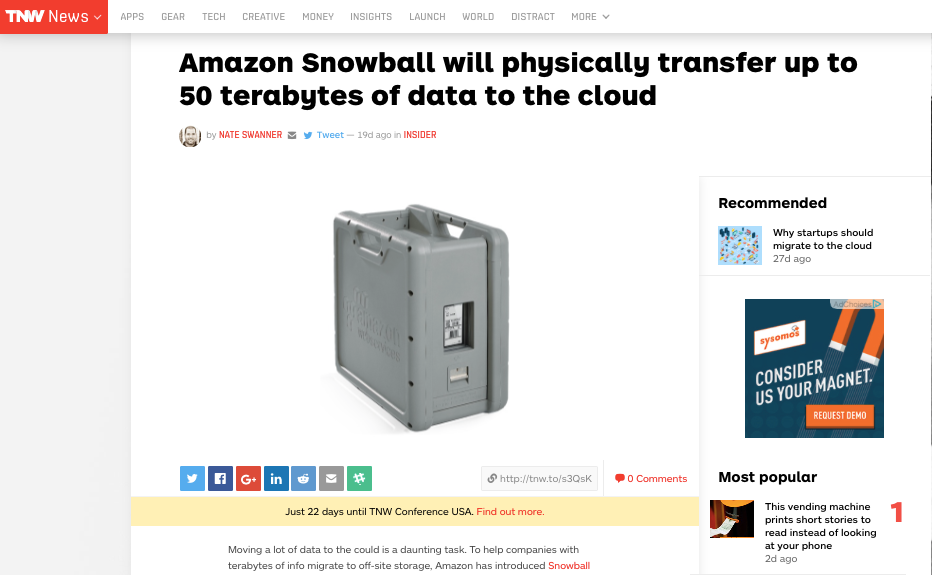 My brain then started wandering on this bit of news. I was exhilarated. Even the great AWS hasn't cracked the utilisation and latency conundrum that Bridgeworks has with WANrockIT and PORTrockIT.  For massive amounts of archive data, this may be the way to go, but for everything else I am not sure I agree that this is the solution that everyone is looking for.
Next came the turn of AWS Database Migration service and the AWS Schema Conversion tools, when the Jim Fowler, CIO of GE took to the stage. His message was that the journey to the Cloud was a necessity and a transformation. He wholeheartedly endorsed AWS due to ease of use, distributed control, expertise, breadth and depth of features not to mention self service. GE are moving over 9,000 workloads as we speak. Their Oil & Gas division are already running 50% of their core applications on AWS with has accounted for a massive 52% reduction in TCO.
Jim Fowler's overriding message, the cloud has gone from the improbable, to the inevitable.
Accenture, Stripe and MLBAM then followed, all revealing their plans for the future with AWS.
The excitement did not end there; the exhibition halls were chock-full the entire time. Break-out sessions oversubscribed with queues forming around the halls of the Venetian.
If I hadn't been convinced before, I would have been left in no doubt this company has huge ambition.
But my thoughts were still on Snowball. Andy openly admitted this was thinking inside the box. There is no doubt that getting colossal amounts of data to the Cloud for glacier storage this is a massive step-up from what is currently happening.
But there is a BIG but. This solution is designed, yet again, to architect around the common obstacle of latency in the data transfer journey.
Bridgeworks are delivering data to and from the Cloud that is in excess of a 69% performance improvement with a 33% cost saving. Across the AWS infrastructure on a C3.8 large, data is being transferred at a jaw dropping 5000% increase.
This is thinking outside the box, delivering real value to customers who need to interact with the data going to, from and over the AWS Cloud.
Fortunately, we are an AWS partner, our products are in the Marketplace and we see a bright future for us working with them and their partners, allowing data to flow without impediment to the AWS Cloud and back.